Victory's Photo Album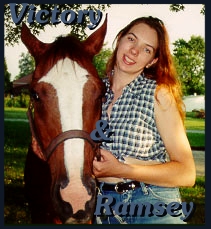 ---
Click on the linked part of the description to view the picture, then use your browser's back button to get back to this page.
---
Winter turn-out time! I think this picture really shows how much Top Deck and Leo my mare has in her.

Victory & Traveler, June 27, 1997 just a few days after Trav was born.

Loping slowly through the barrel pattern at WPAFB, June of 98.

Another time around, still takin' it easy.

This time I pushed her out of the 3rd turn with a little speed, here's where we're taking off.

Here she is giving a little boy a ride. She's great with kids. Off camera was me ponying Victory on Sandman, the AQHA stud horse I used to own (Traveler's sire).

Victory and I jumping some small crossrails. These pics were taken right after I got her (as soon as the snow melted enough to jump!) Another jumping picture...

Then I found her true tallent, barrels. Here we're running the pattern I had set up in my field for the first time.

Waiting by the trailer, ready to get untacked and go home after a long day at the fairgrounds.

I went to Wyoming in the summer of '98 for a few months to work on a duderanch. I took Victory with me, and she had a foal while we were out there!!! I named the colt Suprize, since he was. Cute little bugger, wish I could've kept him. No room in the trailer, though. Sold him to a young couple, who renamed him Dakota and last I heard were keeping him in Riverton, WY somewhere.

Here we are in the Wind River just E of Dubois, WY.
---