Bid For Victory
'84 Sorrel AQHA Mare
I got Victory for Christmas in 1995. When I got her I thought I would do jumping with her, but when goofing off one day shortly after, I discovered her hidden talent: barrel racing! Victory and I practised alot in the summer of '96 and even did some local competition. If we had more run time I'm sure we could have done awesome! She's getting older now, though, so I have semi-retired her (or more like retired the idea of her being a top-competition barrel horse). However, I do have her '97 stud colt still, Heza Fast Traveler, who is currently standing at stud. I have high hopes for him as he has great potential, just like his momma!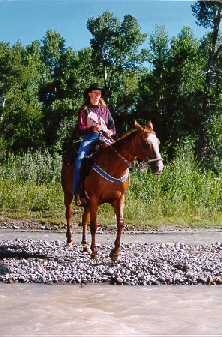 This picture was taken while Victory and I were in Wyoming.
---
Victory Pictures - Most are older pictures, as I've been busy lately to get updated ones online, but there's lots of good pictures of my purty mare, from us jumping to barrel racing to just goofing off!

Victory's Pedigree - A detailed pedigree (as far as I could trace back). Do you know any more about her lineage? Or is your horse related?

Victory's Show Records - Only a few details, as I've stopped showing for a few years.
---